---
http:// www.ferrocom.hu / English / About us
---
About Ferrocom Vasipari Kft. (Ferrocom Steel Industries Ltd.):

The predecessor of the company, the Balatonfüred - "Csopak Tája" Agricultural Cooperative founded the Ferrocom Vasipari Kft. at the current site in 1989 which then - as a branch of the agricultural cooperative - started the production of welded steel structures.
Our first significant contract was the production of military container parts for the Labor Műszeripari Művek Esztergom (Lab Tool Industry Works in Esztergom) which was our main expertise in the following 3 years. These products were mainly used in the Soviet Union.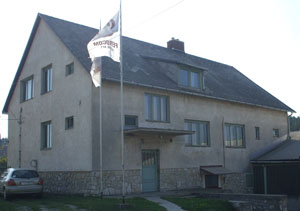 Ferrocom Vasipari Kft. met with a crisis situation in 1992 due to the liquidation of the Labor Műszeripari Művek Esztergom plant.
In the same year we searched for and found a new market in West Germany. The manufacturing of building industrial and agricultural machine parts pre-eminently for the German market then began and developed gradually.
The initial period continued until 1995, these three years were necessary for the collective to get acquainted with the opportunities of the work and production culture remunerative in the western market and also to acquire a name in the field. By this time exportation was providing more than half of the turnover which today has reached 80-90%. The companys course has been defined by steady and continuous development and expansion to this day.
We are striving for further expansion of technical-, technological development and production. It is in this spirit that we aim to service our present and future partners pertaining to planning as well as quality parts production of modern standards.
History of Ferrocom Vasipari Kft.
1992 Low point, moderate cut-backs, first deliveries to West Europe
1995 Our transportation rank within West Europe strengthens in the area of machine parts manufacturing for the building industry, export exceeds 50% of turnover
1996 Significant investments are introduced: flame cutting machine, industrial hall construction, renovation of machine pool
1997 increase of more than 50% in trade, following the exportation of building industrial machine parts the manufacturing of agricultural machine parts is introduced also, a 20% increase of work force
2000 Change of ownership, management buys out the business share of Csopak Rt. due to which the whole of the company comes into possession of private individuals.
2001 Renewals and expansion
2003 Modernization of bending and flame cutting technology
2004 Modernization of gas heating, modernization of welding technology
2005 continuing training of the employees
2006 significant developments:
oblique cutter
grain diffusing machine
new hydraulic bending machine
150 ton hydraulic compactor
Supplying of overalls
2007 significant developments:
CNC steel cutting machine
Impulse system welding machines
Establishing of workers hostel
2008 The manufacturing of welded and cut machine parts is the most prominent activity of the company. We supply many countries in the European Union: Germany, Italy, France, Finland and Austria with approximately 700 tons of welded machine parts.